Metering pumps in LK Series for food and pharmaceutical industries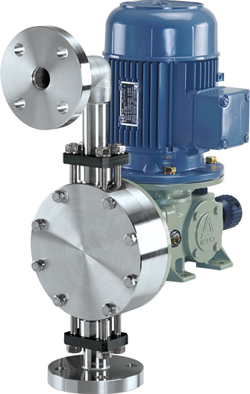 Motor driven metering pumps (for food and pharma)
User-friendly and designed for many purposes.
Durable dosing pump with superior durability for long continuous operation.
Compact, robust & solid reduction gear in oil bath.
A good economical pumping solution that handles most dosing tasks.
The elastomers of the pumps are approved according to EC1935/2004 for use in the food industry and in the pharmaceutical industry.
In connection with the approval migration analyzes with various simulants (acetic acid, ethanol, isooctane and water) were performed by an independent testing institute.
Technical Data
| Model | LK-F45-S6 | LK-F47-S6 | LK-F55-S6 | LK-F57-S6 | LK-A55-S6 | LK-A57-S6 |
| --- | --- | --- | --- | --- | --- | --- |
| Max. flow: | 0,85 l/min | 1,7 l/min | 2,8 l/min | 6,0 l/min | 2,8 l/min | 6,0 l/min |
| Max Pressure: | 1,5 MPa | 0,8 MPa | 0,5 MPa | 0,3 MPa | 0,7 MPa | 0,5 MPa |
| Materials: | SUS316, Hastelloy | SUS316, Hastelloy | SUS316, Hastelloy | SUS316, Hastelloy | SUS316, Hastelloy | SUS316, Hastelloy |
| Diaphragm & valve gasket: | PTFE | PTFE | PTFE | PTFE | PTFE | PTFE |
| Liquid temperature: | 0 to 80°C | 0 to 80°C | 0 to 80°C | 0 to 80°C | 0 to 80°C | 0 to 80°C |
| Motor effect: | 0,25 kW | 0,25 kW | 0,25 kW | 0,25 kW | 0,37 kW | 0,37 kW |
Download
The pump also comes built-in