Reasons for choosing an air-operated double diaphragm pump from Yamada
Our air-operated double diaphragm pumps can pump everything from clean water and volatile liquids to highly viscous, abrasive and chemically aggressive fluids like adhesives and asphalt.
Yamada AODD pumps gives you value for money when it comes to quality and reliability.
See the wide range of Yamada AODD pumps.
The construction without rotating parts makes the pump virtually maintenance free. The only wear parts are easily replaceable diaphragms and valves. The Yamada diaphragm quality provides a long lifetime.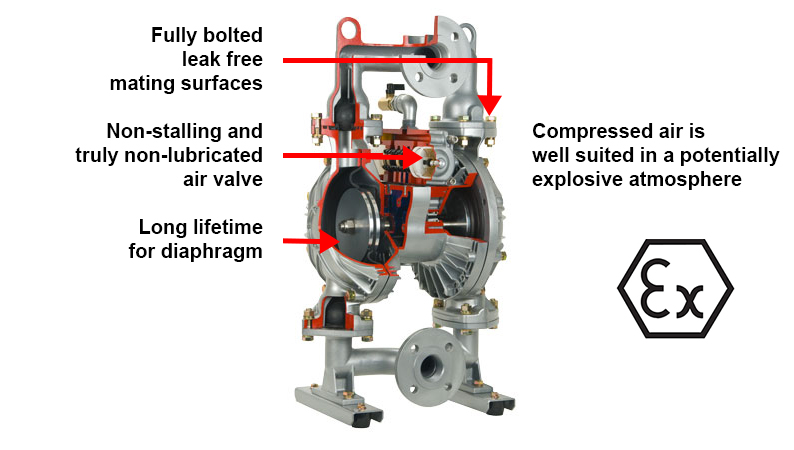 Top Characteristics of the Yamada AODD Pumps

For highly viscous media – also with particles
Pumps everything from clean water and thin volatile liquids to highly viscous, abrasive and chemically aggressive medias like adhesives and asphalt. The pumps also handles liquids with high concentration of particles.
Dry start-up, self priming
The pumps are self-priming with a suction capacity of 9 meters valid for water. The pump's ability to withstand dry running, making it an excellent choice in areas where the inlet of fluid will be intermittently. If the inlet stops the pump will continue working – without any damage due to overheating or friction wear.
Works when submerged
The pumps can be installed in places where there is a risk of flooding given the pump materials are resistant to the surrounding fluids.
Flow management is easy
The pump performance can be controlled through a valve on the discharge side of the pump or by increasing or decreasing the air pressure to the pump. The pump can also be supplied with pulse control and electrical speed regulator.
High Head and Long Range Transportation
The pump utilizes the energy supplied in the ratio 1: 1, i.e. the pump produces a pressure on the discharge side corresponding to the pressure of the compressed air supplied to the pump. Therefore, a maximum pressure of 7 bar makes the pump capable of transporting a medium up to a high level or over relatively long distances.
Compressed air, a safe energy source
In potentially explosive environments, it is essential that there are no sparks build. Compressed air as the energy source is ideal in potentially explosive environment. Similarly, the pump can be used to pump volatile and highly flammable medias without special precautions against explosion. There are no risk of spark being build.