Model Numbers for Yamada Air-Operated Double Diaphragm Pumps
The Model numbers for our AODD pumps from Yamada are created in a way that makes it possible to read the exact version of the pump. Amongst others you can see the pump size, check valve type, body material and diaphragm material.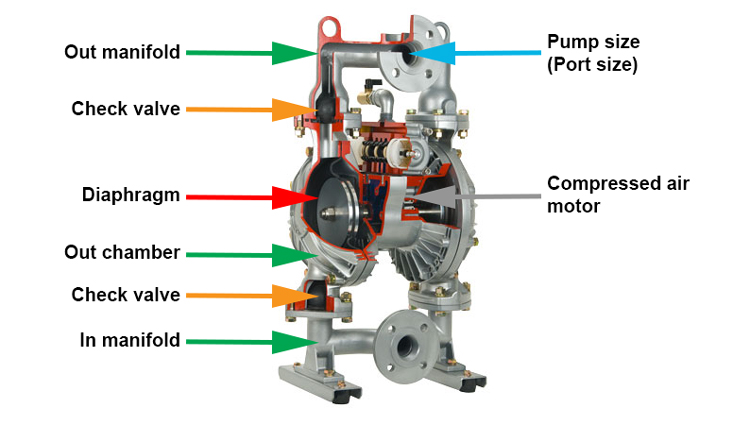 Examples:
NDP-25-BPE
NDP-25-BVTU-FLG
25
Size 1″
25
Size 1″
B
Ball valve
B
Ball valve
P
Wet end parts in polypropylene
V
Wet end parts in polypropylene
E
Diaphragm in EPDM
TU
Diaphragm in PTFE/EPDM
Threaded manifold
FLG
Flanged manifold
The tables below can be used to identify the exact pump version.
Pump size
Port type fluids
Port type air
Rc thread / flange
NPT thread

5

Size 1/4″ (5mm)

Rc thread
(BSPT)
NPT 1/4″

10

Size 3/8″ (10mm)

Rc thread
(NDP10-BP and DP10: BSPT)
NPT 1/4″

15

Size 1/2″ (15mm)

Rc thread
(DP15: NPT)
NPT 1/4″
(DP15: NPT)

20

Size 3/4″ (20mm)

Rc thread
NPT 1/4″

25

Size 1″ (25mm)

Rc thread
(NDP25-BV and NDP25-BVT: BSPT)
NPT 3/8″

40

Size 1 ½" (40mm)

Flange + Rc thread
NPT 1/2″

50

Size 2″ (50mm)

Flange + Rc thread
NPT 3/4″

80

Size 3″ (80mm)

Flange + Rc thread
NPT 3/4″
Check valve

B

Ball type

F

Flap type
Wet end material
Max. liquid
temperature
Atex
appr.
Characteristics

A

Aluminium

120° C

Yes

Suitable for many non corrosive liquids without abrasive particles. Low weight.

S

Stainless steel (AISI 316)

120° C

Yes

Suitable for aggressive liquids. High applicability to abrasive media.

F

Cast iron

120° C

Yes

Suitable for many non aggressive media and for transportation of sludge.

P

Polypropylene (PP)

82° C
Not resistant to petrolium-based solvents. Low weight.

T

PTFE

100° C
Resistant to most chemicals. 100% clean PTFE.

V

PVDF

100° C

Yes

High chemical resistens. High material strength. Carbon reinforced.

D

Acetal

82° C

Yes

Among other things, suitable for a variety of solvents. Low weight
Diaphragm and check valve material
Max. liquid-
temperature
Characteristics

C

Neoprene (CR)

82° C
Excellent for non-corrosive abrasive applications

N

Nitril (NBR)

82° C
Excellent for petrolium based fluids.

E

Nordel (EPDM)

100° C
Excellent for low temperatures, caustics and some acids.

H

Hytrel (TPEE)

120° C
Excellent general purpose diaphragm for non-corrosive abrasive applications and high-flex life. FDA compliant material

T

PTFE (Polytetrafluor-ethylene)

100° C
Excellent choice for pumping highly aggressive fluids, including solvents.

V

Viton (FPM)

120° C
Excellent for aggressive fluids and high temperature applications.

S

Santoprene (TPO)

100° C
Excellent for acids or caustics with a very high flex life.

TU

PTFE / EPDM
(High Performance)

100° C
Great high performance and easy to clean diaphragm is suitable for very aggressive medias. 3 times better estimated life time compared to standard ptfe diaphragms
Additional options – examples:

A

ATEX pumps

HP

2:1 High Pressure pumps

FDA

FDA compliant

FLG

Flanged manifold

I

Split suction manifold

O

Split discharge manifold

Z

Both manifolds split

MPI

Mid suction manifold

MPO

Mid discharge manifold

MPZ

Both manifolds mid

NPT

NPT female thread

PP

Polypropylene motor size 20/25

XS

PTFE coated motor